04 October 2018
Merge Cube puts Augmented Reality Front and Centre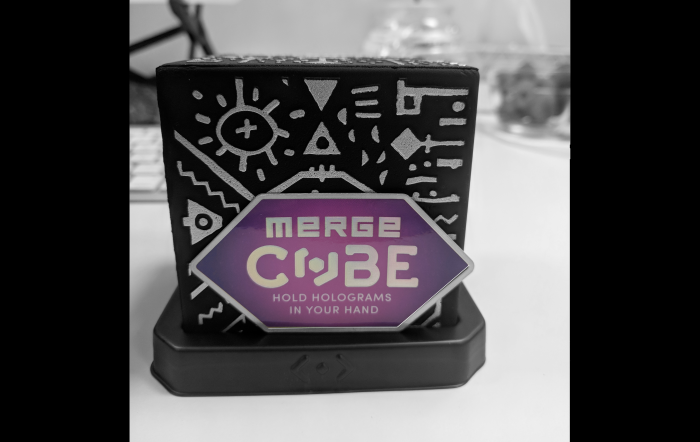 A few weeks ago, we mentioned that the Merge Cube looked really fun, but since it didn't ship to Canada we would never find out.
Turns out, we were wrong!
It doesn't sell directly through the website, but you can get them on Amazon and Best Buy. And to give us the chance to review it, Merge sent us a cube and a VR viewer. So how did the Cube measure up?
The Apps are Everything
The Merge Cube relies on having a lot of apps that let you do different things with it - and boy do they ever have a lot of apps! They did a great job of making sure developers were on board before launching, and the experiences range in quality and style. There are little games that let you roll balls around, games where you snap sushi out of the air, experiences to teach you about the universe and the human body - basically, if the HoloLens has it, Merge Cube has it too.
AR is at the Core of the Games
One of my big pet peeves about a lot of AR apps is that the AR feels like an add-on - and often an unnecessary one. With the Cube, I felt like they were leading with the AR foot forward, and I really appreciated that. A few of the apps were pretty much just dioramas, which could have been better, but even then they did really neat things with AR (like having a background skyline that was always at the back of the model no matter how much you turned it).
I tried Dig, Explorer, Defused, Merge Things, and Tiltball. Merge Things has a whole bunch of experiences inside of it, and it was my favourite. Defused came a close second.
The Technology Isn't Perfect, but it's Good
Sometimes it was a bit awkward trying to hold the cube and my phone at the right angles and the same time. If you shift the cube too quickly your phone loses tracking (though I never moved it that fast during gameplay, just to see if I could!). Of course, I could put the cube down for some of the experiences, but most relied on moving the cube around.
I love that the cube isn't plastic! It's a sort of hard foam, which makes it comfortable to hold for long periods. It's super lightweight - and it looks freaking cool.
I Didn't Use the Viewer They Sent
Merge Cube can be used as an VR or AR experience. To be honest, I had no desire to try out the VR. I figured it wouldn't be as high quality as "real" VR, and I liked that my coworkers could see what I was doing, that we could share in the experience. It was fun and it brought us together; I didn't want to disappear into a headset.
Overall review? 8/10.
It's super cool, it's fun, it's quirky and weird. I might run out of games to play, or get bored after the novelty wears off, but that hasn't happened yet. Merge Cube!