22 December 2017, issue 140
Magic Leap is Leaping into the Present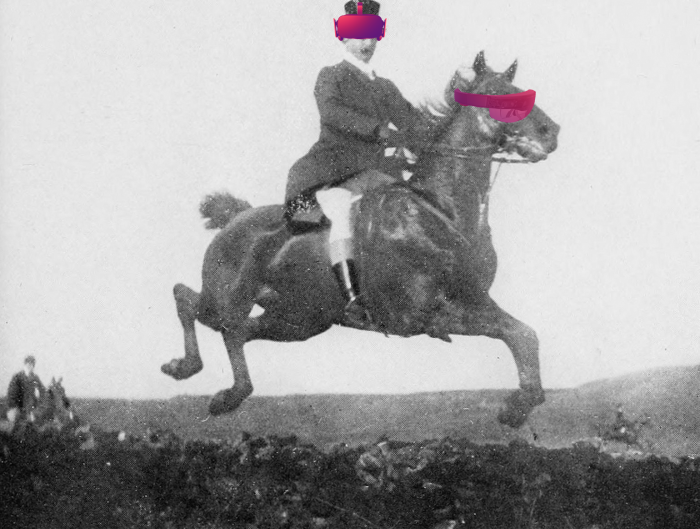 It's finally happened - Magic Leap has officially unveiled their hardware. The day has been long awaited, and in the coming weeks we'll likely see a blast of reviews as the curtain lifts. Will it live up to promises? Or will it Leap right off the edge of expectations?

Headline of the Week

: Facebook breaks the Oculus-only divide.


Deep Dive

: Lytro wants to be the all-in solution for 3D filming.


Hardware & Ecosystem

: Magic Leeeeeeeeeeap!


New Release

: Augmented reality Christmas cards for sick kids.


Worth a Thousand Words

: The Greatest Showman in 360 degrees.


Laugh-a-Minute

:

Bugs on VR treadmills.
"Rubin Franklin says that Vive support is "only the beginning: We're working to bring Facebook Spaces to even more VR platforms and devices in the future, so stay tuned." Don't look for Spaces on Steam yet though, because Facebook is hosting the executable directly on its site. Simply pick your platform, and download the file."
There was a lot of controversy last year with Oculus creating exclusive content despite an initial promise from their developers to avoid that; Vive hit back, swearing they would never require developers to create for a single platform, even if they were helping fund titles. So it's great to see Facebook backing down from that and realizing there's a lot of money to be made on the software side that being hardware specific locks them out of.
"The company is building a toolset for capturing, rendering, and intermingling both synthetic and live-action light-field experiences which can then be delivered at the highest quality playback supported by each individual platform."
Lytro has been ramping up its light field tech for the last few years, and it seems they're finally ready to break out in a big way. End-to-end solutions are an important part of their strategy; they don't want to lose customers along the way. This article goes in deep about how the technology works, and how Lytro plans to leverage it moving forward.
"In the catacombs of Magic Leap's massive complex, tucked away in underground clean rooms, robotic arms and bunny-suited humans quietly collaborate, assembling a steady stream of the photonic chips that empower the company's new, perhaps better reality."
Finally a reporter is allowed to get deep into what Magic Leap has been doing all these years. The resulting interview is interesting. It describes the search for a way to create 3D images without using the "dual display" idea that started in the 1830s and never went away. It led to light field technology, among other things, and the result is hardware that works in a fundamentally different way to the other headsets on the market today. There's still no word on the headset specs or battery life (they're working on extending the battery before release), and of course, no word on price. But the glimpse is enough to give hope to proponents of the battered company.
"Honda sponsored the "Ultimate Get Well Card," an augmented reality experience for patients at the hospital. An iPad serves as a window to a whimsical winter wonderland, populated with origami birds and snowball-tossing snowmen that appear to pop out of the card."

It's a sweet idea, of course powered by a company's advertising dollars, but still cute and full of heart. The cards can be viewed by the public on a web-browser, or you can watch a video showing kids actually experiencing their own cards. It's some heart-warming stuff, everybody.
"In this exclusive video, viewers can go onto the rehearsal stage where Jackman and the cast, which includes Zac Efron, Zendaya and Michelle Williams, are putting the final touches on the film's show-stopping number "Come Alive.""

AUTOPLAY WARNING - we try not to link to sites that autoplay, but since this is a video link and what's autoplaying is the video you are presumably trying to watch, it seems less egregious than usual.
Insects on Treadmills in VR
"Scientists have been able to learn about how visual cues influence flight and navigation in bees and ants by projecting them on a screen while tethered insects walk on a treadmill. Neural responses in different parts of their brain can also be recorded while the tethered insects are performing different behaviour. Such experiments can inform us about how they learn and remember different visual cues."

The initial image is funnier than the article itself, which is actually some really interesting science being done using insects and VR. Check it out!
Like what you read? Share the newsletter with a friend.