05 January 2018, issue 142
Groundbreaking Your Face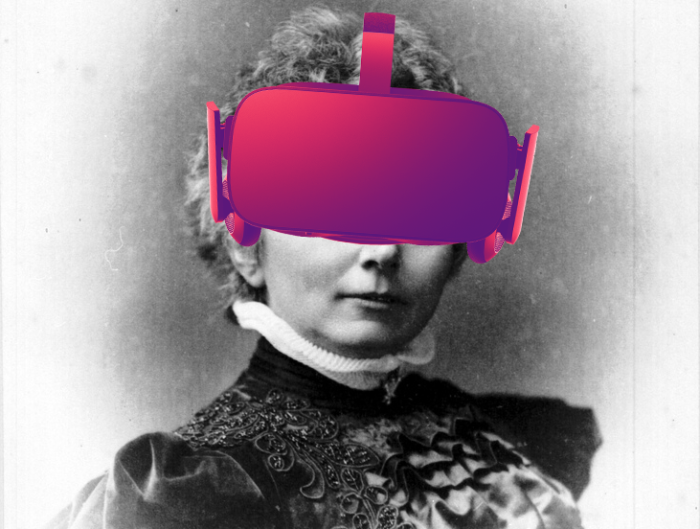 The latter quarter of 2017 was slow for new developments, but 2018 is starting off with the firing of a race pistol. The first half of the year is all about announcements and developments, and the second half is all about failing to achieve those innovations!

Headline of the Week

: 4 ways education will change thanks to spatial computing.


Deep Dive

: This lens brings together all the colours of the wind - er, rainbow.


Hardware & Ecosystem

: Fitness VR is getting a boost thanks to filming techniques.


New Release

: The Unibomber's case gets a virtual makeover.


Worth a Thousand Words

: Rollercoasters are nearly as fun to watch as they are to ride.


Laugh-a-Minute:

What does Pitch Perfect have to do with makeup, you ask?
"Long-time educators, including Agnieszka Roginska of New York University and Columbia University's Steven Feiner, pointed to emerging media as a way to improve multi-modal learning for students and train computer systems to understand the world around us."

Films imagine a world where students enter a virtual world and talk to a virtual teacher instead of going to a physical classroom, but that eventuality is highly unlikely. More realistically, we'll see cash-strapped schools implementing VR very slowly, and very piece-meal. Hopefully it will bleed into classes like history and science first, where its ability to model the world is especially helpful.
"Now a team of researchers at the Harvard John A. Paulson School of Engineering and Applied Sciences (SEAS) has developed the first single lens that can focus the entire visible spectrum — including white light — in the same spot and in high resolution, a feat previously achieved only by stacking multiple conventional lenses."
This is a huge step for headset manufacturers across the world. If this technology can be shared and disseminated, it will mean an incredible leap forward in display technology for every augmented and virtual reality headset.
"2Sens' dual cameras allow for filming in 3D or 2D video at the same time, has a paired app that will give you directions on how to get a smooth shot, can be live streamed straight from your phone and onto social media and can be viewed with VR-enabled devices and headsets."
This company is using smart marketing to take a fairly common set-up and apply it specifically towards the world of fitness in order to boost engagement. There's a weird vacuum in the fitness world in AR (and to a lesser extent, in VR), and it's absolutely ripe for innovation and disruption. When was the last time your fitness routine actually changed? This is a great avenue for companies to explore, and we hope to see more in the space in the next 16 months.
"Users will be able to explore the primitive cabin where the Unabomber was captured, pick up objects and play detective, immersing themselves in scenes and scenarios that actually happened. Terry Turchie, the FBI agent who ran the task force on that case, narrates the story, which presents the user with important questions about the journalistic ethics involved in deciding whether to publish potentially controversial content."

Misleading title for an article that's more about recreating crime scenes for a museum than for a courtroom, but the experience the Newseum has created is worth talking about (also, great name for a VR installation experience creator). It lets users dive into true crimes, but goes beyond the macabre to talk about journalistic ethics, the real kind of detective work needed to stick a conviction, and what VR brings to the process.
"Industry pundits and thrill ride nerds are waiting anxiously for a 500ft (152m) coaster, but it hasn't arrived yet. It seems there may be a limit to the amount of dollars that theme parks are willing to put on the line for new record-breakers. So where to next? The answer it seems, is skipping new real-world rides and going virtual."
Building rollercoasters is really, really expensive. Turns out creating VR versions might be a heck of a lot cheaper, and thanks to the novelty, it's sure to impress thrill-seekers! At least for a little while. But will they be satisfied with half the truth, or will they want to keep climbing the next hill?
"The app has recreated the signature beauty looks of eight of the film's lead characters for users to experience via instant beauty try-ons that allow them to virtually test the looks out on themselves, featuring the familiar faces of Beca, Fat Amy, Emily, Audrey, Chloe, Calamity, Lilly, and Cynthia Rose."
Because when we think of an empowering movie about strong, female singers, we don't think of making an app that lets you sing mashups, or do karaoke, or put a filter on your voice so you can sound like one the leads. No, we here at NBC think of... makeup.
Like what you read? Share the newsletter with a friend.