12 January 2018, issue 143
Would You Like a VR Experience With That?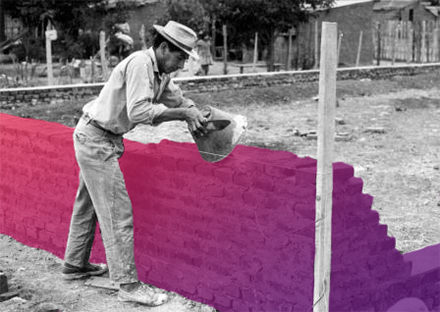 Things are finally beginning to heat up, and instead of searching desperately for news of interest, we're back to cherry picking only the best and most exciting. Keep an eye on hardware announcements especially, which are coming in so fast and furious we were pulling out our hair deciding which one to share with you.

Headline of the Week

: Coco has a VR experience, because all movies do now.


Deep Dive

: Meet the scientists who are preserving African heritage sites in VR.


Hardware & Ecosystem

: AR without WiFi will do more than save your data bill.


New Release

: Shoot evil AI in this AR blaster game.


Worth a Thousand Words

: A Boston Red Sox fan with MS goes to the game.


The Breakdown: Construction is the next proving ground for VR.
Laugh-a-Minute:

Paaaaaaaaaaaaaaain.
'The experience was developed by Magnopus in collaboration with the teams at Pixar. Magnopus is a Los Angeles-based studio that some might know for their work on the Blade Runner VR experience, Blade Runner 2049: Memory Lab, or through their incredible work on the space station VR experience, Mission:ISS.'

It's beginning to seem unusual if a film doesn't launch with a VR experience in tow. Suicide Squad popularized the idea with their wildly successfully on site-only shoot 'em up, but they're hardly the only success story. From Star Wars to Spiderman, all the big studio fare now has a VR project to go alongside it. Some of this is smart marketing, but it also means that a lot of studios and dollars are being spent on things that are never intended to stand alone, and that means we're seeing more and more partial experiences, with the feel of demos, instead of actual games. Hopefully the trend will start learning towards meatier, more interesting efforts.
"The archaeological wonders of the world offer a rich window into the past. But many are crumbling, weed-laden and victim to vandalism and conflict. UNESCO World Heritage Sites, such as those in Libya and Mali, have been caught in the crossfire of regional disputes. Concerned with the decay of African heritage sites, The Zamani Project, based at the University of Cape Town, South Africa, is seeking to immortalize historic spots in three-dimensional, virtual reality-ready models."
This is a really cool step forward in archaeological preservation. Imagine if we could see what the pyramids looked like a thousand years ago. For humans a thousand years from now, that may very well be the case. They'll be able to walk around drowned cities and see what they looked like before the floods!
"ARON stands for "augmented reality optical narrowcasting" and it's able to transmit any type of digital file format, including high-definition video and images, up to 400 meters during the day and 1,200 meters at night. The data travels on square beams of infrared light, creating a secure connection between the device -- whether a smartphone, car, computer or wearable -- and the sensor in the real world."
Surefire's system could potentially eradicate the need for data plans, especially when travelling. Imagine being able to go to a foreign city and access restaurant reviews, or find local maps. Not only that, but the system is more secure than WiFi - university campuses or big companies could potentially replace their systems entirely with this infrared-based one.
"AI (artificial intelligence) has taken over the world and mankind is being eliminated. Fight for your survival in this augmented reality, first-person shooter. It's you versus AI, which higher intelligence will win?"

It's great to see developers finally starting to put out products using ARKit. And while a shooter may not be the most exciting use of the technology, it certainly shows what a step forward this is from the augmented reality of 2016.
"About a month later, we received an email from a fan whose father has MS (multiple sclerosis) and huge Red Sox fan and physically unable to go to Fenway Park to watch his team that he grew up rooting for, and they provided him with a Samsung Gear VR headset and allowed him to watch the game," Fenway Sports Management managing director Mark Lev said Tuesday at the Consumer Electronics Show's Sports Technology Innovation Summit. "And…it was goosebumps. Like this is the impact that technology can have."
You can watch the games yourself with the link above, but the real message here is how virtual reality will affect disability. It opens doors that were previously closed, and we're seeing it help many people who are stuck at home, especially the elderly, veterans, and disabled persons.
"When you think of high-tech industries, construction probably isn't at the top of your list. Medicine, maybe, or even manufacturing. But technology is coming to job sites in a big, business-changing way. The ability to create an accurate and interactive version of a project that doesn't yet exist is the biggest change the construction industry has been in decades. Not only does it affect the job site, but it creates ripples that change procedure from ideation right through to implementation."
The auto-industry and construction are likely to be the next big innovators when it comes to VR and AR. We're already starting to see the changes, but more are no doubt on the horizon.
"TEGway ­ThermoReal are wrapped in a paper-thin thermoelectric semiconductor and can create an actual sensation of being burned. Hardlight's VR Suit can create the sensation of being kicked in the ribs, so now all those combat games can be taken to new heights."
Right. Clearly, that's what's been missing from our gaming experience all these years. The ability to know what it feels like when your opponent kicks you in the ribs.
Like what you read? Share the newsletter with a friend.