05 October 2018, issue 180
A Quest for Physical Flamingos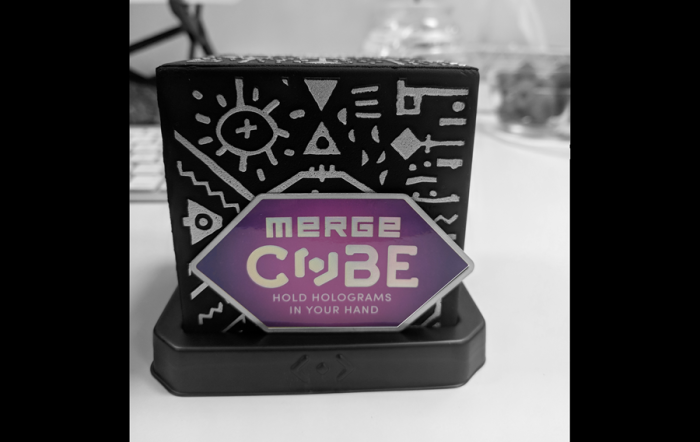 Headline of the Week: Predicting who will get sick in VR may help us solve it.
Deep Dive: AR is getting better at scanning bodies and reacting to their movement.
Hardware & Ecosystem: Facebook will be launching a stand alone headset.
New Releases: You've never been in a haunted house like this.
Worth a Thousand Words: Dance with flamingos in AR.
The Breakdown: We got a Merge Cube and we're telling you all about it!
The Light Side: Harry Potter partners with Lifeprint for AR photos.
VR Motion Sickness May Be Predicted and Counteracted
"In a recent study, the researchers found they could predict whether an individual will experience cybersickness (motion sickness caused by virtual reality) by how much they sway in response to a moving visual field. The researchers think that this knowledge will help them to develop counteractions to cybersickness. "
Being able to predict who gets sick in VR should let them create cures tailor-made for sufferers. As VR becomes more popular people seem to have forgetten just how many people are affected by VR sickness, but it's a big blocker to mainstream adoption.

AR is Getting Much Better at Recognizing People's Bodies
"Historically, your Apples, your Snapchats — a dancing hotdog or a Pokemon — they use open spaces and they use fixed objects, like this table, things that don't really move… to anchor the space," Fuisz said. "What Octi has built up is a series of neural networks that work together to give progressively more information about what someone's doing in a video. We track a skeleton, and re-construct that skeleton into three dimensional space."
Being able to use advanced AR without the need for fixed objects and triggers would be incredibly useful. Green screens are great, but most people don't happen to have one in their home. Using AI is hopefully a way forward for this technology.
Facebook unveils Quest, Its New Virtual Reality Headset
"The headset from Facebook's Oculus division will be a stand-alone device that won't require a smartphone or a connection to a personal computer to create artificial worlds. The Quest won't be available until next spring, although Zuckerberg unveiled the new headset at an Oculus conference held today in San Jose, California."
It'll be $399, making it a much more sophisticated device than Oculus Go. It's a little odd to create competition with your own headset, as it is competing with the Oculus, though it may be more of a replacement than a competition. Specs will tell.
VR reimagines the haunted mansion–with eerie effects
"The Void takes the idea of horror VR one step further by building elaborate, physically connected sets that allow users to actually walk, touch, and even smell the environment. Patrons do not simply sit there with a headset on; they are encouraged to interact with the set. The games are meant to be social: Participants cram together during attacks or work with one another to solve puzzles. You'll hear players shout to each other, "Watch out!" or "Come stand by me, it's safer." Everyone, quite politely, tries to help the other survive. "
This sounds like the kind of thing that would have me gibbering in the corner by the end of five minutes. But for horror aficionados, it's the closest you can come to living through a horror movie, and testing your mettle against real terror. Move over, The Ring. There's a new player in town.
Dance with Flamingos to Raise Awareness of Habitat Loss
"Although flamingos are ubiquitous as plastic lawn ornaments and as kitschy fashion patterns, the birds themselves are less visible, and are under threat due to human activity. "The series builds upon the popularity of flamingos in visual culture — which is generally a superficial treatment — and infuses it with research by conservation scientists to encourage deeper understanding about flamingos and threats to their habitats at a critical time.""
Using technology to bring awareness to natural issues is an interesting challenge. The artist notes that the more research she did, the more she realized the phones, computers, and visors she was using to make the experience possible were all part of the industry that is destroying flamingo habitat (the Lithium Triangle).
Merge Cube puts Augmented Reality Front and Centre
"The Merge Cube relies on having a lot of apps that let you do different things with it — and boy do they ever have a lot of apps! They did a great job of making sure developers were on board before launching, and the experiences range in quality and style. There are little games that let you roll balls around, games where you snap sushi out of the air, experiences to teach you about the universe and the human body — basically, if the HoloLens has it, Merge Cube has it too."
We were sent a Merge Cube to test out this week, and we had a lot of fun playing with all of the apps available on it! Check out the full review, but guess what? Turns out it does ship to Canada after all!

Lifeprint's AR Photos Get the Most Obvious Partnership Ever
"When Lifeprint first launched its augmented reality printer back in 2016, it seems like almost the entire internet made the same connection: that looks a whole lot like the moving pictures in the Harry Potter books and movies. As it happens, Lifeprint and Warner Bros. both agreed, which explains the company's latest product: The Harry Potter Magic Photo and Video Printer, which bundles the company's very Harry Potter-like AR pictures into a properly Harry Potter-branded package."
The downside in my mind is still the need for a phone or tablet to make the physical pictures come to life. It's not really that magical when you have to hold something over it to interact with the fun stuff.