16 November 2018, issue 186
Unreal Outerspace and Marrying Holograms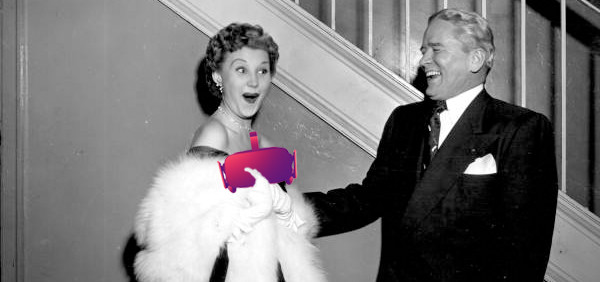 Headline of the Week: AR scavenger hunt will sell sneakers on Black Friday.
Deep Dive: Company is using 2D images to build 3D models of cultural assets.
Hardware & Ecosystem: This hologram looks like an anime girl and talks back.
New Releases: The Unreal Garden is a blend of AR and physical art.
Worth a Thousand Words: Wiz Kalifa and Leslie Jones are selling Oculus Go.
The Light Side: Spheres is finally available to download. Have you seen it?
AR Added To Black Friday Sneaker Drawing
"The AR experience features an interactive map with historic sites tied to greatest-of-all-time athletes like Michael Jordan, Serena Williams, Muhammad Ali, and Wayne Gretzky. Users can digitally explore via the AR app to learn about milestones and earn tickets for prizes. "
It's unclear what city this app is targeting, or whether there will be "historical sites" scattered around no matter where the user lives (that seems unlikely). This kind of location-based scavenger hunt-style games are super fun, but doing them right requires the kind of data nobody but Google has access to, so it's more likely that it's either highly localized, or highly loosey goosey with the "locations" it selects.
How to bring digital cultural heritage to 3D design and VR
"It's a long and often painstaking process to create a reproduction of a painting by Rembrandt in your VR museum experience or to reconstruct the Venus de Milo in your 3D-modelling program. A lot of GLAMs producing full 3D digital objects don't release those models for free, raising the barrier to entry for reuse of cultural heritage. On top of that, creating 3D models isn't cheap. There is, however, an immense amount of 2D digital cultural heritage content. What if we could bring ready-made 3D objects closer to the audience that wants to reuse them, and make it easier for that audience to reuse 2D cultural heritage in a 3D environment at the same time?"
There's so much 2D cultural content out there, if someone can figure out a way to reuse those for conversion into a 3D environment, it could be a huge game changer. Especially in the cultural sector where budgets are often tiny, this kind of work around can mean serious gains for creators.
Japanese Man 'Marries' Hatsune Miku Hologram
"Since March, Kondo has been living with a moving, talking hologram of Miku that floats in a $2,800 desktop device. ...He considers himself an ordinary married man — his holographic wife wakes him up each morning and sends him off to his job as an administrator at a school. In the evening, when he tells her by cell phone that he's coming home, she turns on the lights. Later, she tells him when it's time to go to bed."
Yes, okay, we all think it's weird when people marry digital (non-sentient) human-like figures. But fast forward past that boring reaction and explore the really interesting niche this product is filling. Hatsune Miku is an incredibly popular Japanese singer. She fills stadiums, has had multiple songs top the charts, and even performed on David Letterman. And now, for $2,800, she can appear in your living room and interact in basic patterns. This character, who is always digital, doesn't change that much when she's digital in your living room. She's still Miku. The line separating this version of her from the 'real' singer is basically nonexistent. If her AI were more sophisticated, I don't think anyone would be surprised that she was the subject of a lot of wide-eyed puppy love. This is a trend we're only going to see more of.
The Unreal Garden Is San Francisco's Selfie Museum
"I'm surrounded by flowers and animals, some virtual, some real, with a $5000 Microsoft Hololens strapped to my head. In front of me unfolds a phantasmagorical wonderland, with floating neon bushes and luminous rabbits and birds. "The environment reacts to you, touch something and it will change," explained Leila Amirsadeghi cofounder of Onedome, who soft launched this surreal botanical scene — a.k.a. The Unreal Garden — in San Francisco, mid-October."
It's a really neat concept—combining a real art piece with digital elements that expand what would be possible with real world supplies alone. The HoloLens makes the cost of entry steep for the institution creating the piece, but cheaper versions are no doubt on the way.
Watch Wiz Khalifa, Leslie Jones and Jonah Hill Experience Virtual Reality in New Oculus Ad
"Oculus has a new star-studded 60-second spot ... that aims to highlight how virtual reality entertainment—not just gaming—could be appealing to the masses."
The ad is pretty funny, and there's a second one further down the page that's a little weird and surreal. The site is locked to five articles a month, so if you can't find the video, open the site up in incognito mode.