30 November 2018, issue 188
Elementary, My Dear Google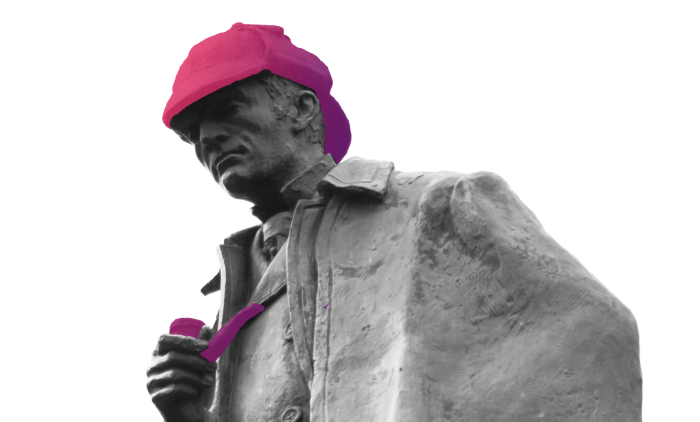 Headline of the Week: Elementary kids learn about local Indigenous heritage in VR.
Deep Dive: Prison inmates are learning to read and avoiding further sentences.
Hardware & Ecosystem: Google's VR shoes let you walk in place for easy movement.
New Releases: Digital sign battles racism by making you pay to remove racism.
Worth a Thousand Words: The Limit is a first-person VR movie experience.
The Light Side: Twain's statue comes to life, but does he humorously insult you?

Students Use VR to Learn About Indigenous Culture
"Students at Dallas Elementary are combining stories about the Secwepemc First Nations people with images taken with a 360-degree camera. The project is part of a virtual reality module being completed this school semester to help students better understand truth and reconciliation, according to Andrea Mangell, a Grade 6 and 7 teacher at Dallas Elementary School. The photos are of local landscapes and rivers. The students write stories inspired by traditional Secwepemc characters and record themselves reading the stories."
Any way you can make learning more hands on with younger kids is great, and studying oral storytelling is hard without a strong medium to explore. VR allows that in ways traditional classroom learning doesn't.
Virtual Reality Unlocking Educational Doors for Inmates
"It's estimated that 65 percent of people in prison need help with literacy and numeracy. "How do we put them out into the world if they can't even read? " he said. The Taylor Made Media managing director has extensive experience with animation and virtual reality, and wants to use it to help inmates learn."
Recitivism is a serious challenge in a prison system that drops inmates back into the world completely unprepared to find a job or re-engage with society. Literacy programs have made huge strides, but what happens to inmates who are illiterate, or even dyslexic? VR can help those people learn in a way that would have been impossible before, with the added benefit of allowing them to feel a brief moment of imagined freedom.
Google Has Patented Shoes for VR
"Its "motorized footwear" looks like a pair of skates with treadmills instead of wheels. To use them, you'd put on a VR headset and enter a virtual space. A flexible top platform would let you move your feet normally, going through the motions of walking. Then, the treadmills would negate that motion, imperceptibly moving you back into place. Meanwhile, sensors would translate your walking motion into that virtual environment. "
This seems like a great way to help combat VR sickness - just let us actually move around! I would be first in line to pick up a pair, but it wouldn't work as well for shared experiences unless your whole shoes fits inside it.
Digital Signage Battles Racism With Contactless Payments
"JCDecaux Norway deployed an outdoors display, which featured a video of a group of white supremacists seemingly marching toward pedestrians. The group was chanting, "White and free, don't take over our country," in Norwegian. Many wore ski masks to conceal their faces. One video featured a white supremacist approach with a bat and virtually bang it against the display. The side of the display featured an integrated contactless payment terminal, which asked viewers to donate money to stop the video. When they made a donation with a credit or debit card, the white supremacists stopped speaking and the display said, "Thank you.""
I find this idea utterly fascinating, and I think I hate it but I'm not sure. The problem I see is that if someone doesn't stop the video, random passersby are being forced to endure hearing racist chants. That doesn't seem like something anyone should be forced to endure, especially when only those with the privilege of being able to afford to pay can make it stop. It's certainly a powerful message and a reminder about privilege, but it has a lot of consequences I'm not sure they considered.

"Video footage of the groundbreaking THE LIMIT VR film by pioneer Director Robert Rodriguez / STXsurreal featuring action stars Michelle Rodriguez and Norman Reedus!"
First person POVs are always a dangerous game. If you don't look the same as the protagonist (almost always a white male) there's a huge sense of disconnect, and when you only have a small amount of ability to direct the plot (if any at all) the first person POV feels fake and forced. But if we can get the interactive element down it's the next great step forward in video game tech, and we're all waiting for someone to get it right. Maybe this will be the first.
Mark Twain's Statue Comes to Life in Hartford Thanks to AR
"A statue of Mark Twain has begun to move and talk on the sidewalk in front of Hartford Public Library. He's waving his bronze arms and speaking in a Southern drawl about the city. Standing next to Twain are Benjamin Williams and David Oyanadel. When viewed through an iPad screen displaying the scene in real time, Twain looks as solid as either man, until a passerby walks right through him. This talking Twain statue is the creation of ARsome Technology, a Manchester-based software company founded by Williams and Oyanadel that specializes in augmented reality."
This seems like an utterly genius way to combat all of the statues of horrible racists that still dominate American cities. Keep the statue up, but have the person quote all of the awful things they said in life so people can hear it from the horse's mouth!