04 January 2019, issue 193
Multisensory Report Card of Truth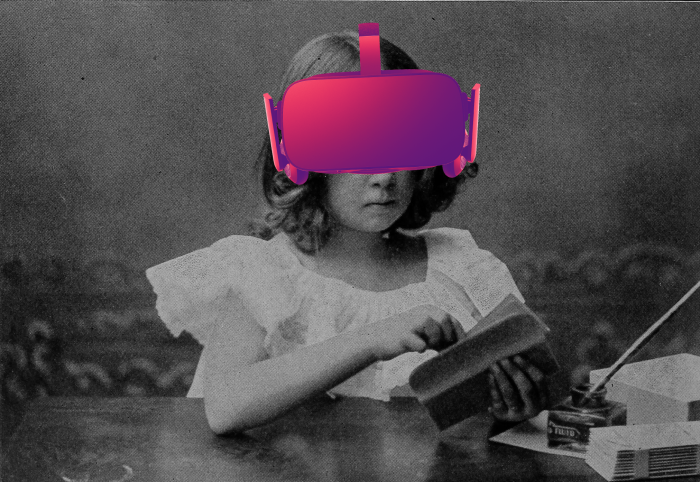 Headline of the Week: The Verge gives both AR and VR a score of C.
Deep Dive: New multisensory mask lets you smell in VR.
Hardware & Ecosystem: Smart glasses just for showing you the weather... yay?
New Releases: Awake VR is challenging our definition of storytelling.
Worth a Thousand Words: Rappers save dogs in VR. There's a lot of swearing.
The Light Side: Lady Gaga's AR animated cyborg is getting real.
The Verge 2018 tech report card: AR and VR
"It worries me that I'm not sure what's happening next year in VR. I'll be watching for a second generation of Microsoft HoloLens, the Oculus Quest, and potentially some products from China, which has a huge VR and AR industry. But we're nearing the end of the first generation of headsets, and companies haven't been publicly exhibiting many giant technological leaps that could sweep us into a second one. Meanwhile, AR probably won't be on most people's radar at all for years. So against the longer arc of history, I'm not sure how the past year will look. But hey — at least we got Beat Saber out of it. Final Grade: C."
The author asks some interesting questions at the beginning of the article. What measuring stick should she be using to gauge XR's success? That's the problem we all have. There were such high hopes, and while it hasn't met those, it's doing very well for a new technology. Is it mainstream? Not on your life. But is it constantly making steady low-grade progress forward? Absolutely. So while she only gives it a C due mostly to a lack of general direction, it's fair to say that while 2019 might not be the year of VR, that might could still be coming.
New Multisensory Mask Lets You Feel and Smell in VR
"Feelreal's Multi-Sensory Mask includes a "scent generator" that holds up to nine replaceable cartridges, each loaded with one of 255 available scents. An ultrasonic ionizing system provides the feeling of water mist on the wearer's face, while micro-heaters, micro-coolers, and haptic motors provide the sensations of heat, wind, and vibration, respectively. The system is compatible with five VR headsets — Samsung Gear VR, Oculus Rift, Oculus Go, HTC Vive, and PlayStation VR — and it's already capable of enhancing the experience of several existing VR games."
I don't particularly want to be sprayed in the face by water, especially under a mask that's already making me feel claustrophobic and overly damp, but the other sensations do sound pretty cool. Sadly, the mask is Kickstarting their way to consumers, so it's possible we won't see anything soon - or at all.

Smart Glasses With AR Weather Info Are Here

"Wearers of Vuzix Blade smart glasses will benefit from comprehensive localised data and forecasts from AccuWeather, which will appear directly in their field of vision. Users won't have to take out their phones to access the latest weather data. Instead they can simply tap on the temples of their glasses, or ask Amazon's virtual assistant Alexa. The new weather experience will be unique, customised, discreet and available anywhere on the planet. Vuzix Blade glasses were unveiled at the CES in 2018. They currently retail for €1,099 in Europe."
Why? Why would anyone want this product? Never mind the price tag, which is mind boggling. Smart glasses that give you nothing but weather updates is useful for one person: an on-site weather reporter. Unless this is a proof-of-concept for the larger technology, it misses the goal so badly it might as well be playing a different game.
Awake Episode One Tells a Story in VR
"Enter the world of AWAKE, an unforgettable, thought-provoking experience; seamlessly blending complex environments with photo realistic volumetric video to create a new benchmark in immersive cinema. In Episode One, you are a new presence in the story of Harry; a man obsessed with solving a mysterious lucid dream. It's an obsession that has also cost Harry dearly and now he is stuck, waiting for release. You are the witness and it's time for Harry to wake up!"
StartVR are friends of Hammer & Tusk, so we were thrilled to hear that they were following up Noir VR with another experience using volumetric capture. It's pretty incredible to see how far the technology has come in such a short amount of time; actors feel as if they're right in the room with you. The story is mind-bending and beautiful, and the characters really come alive as you move in and through their environments. It's more movie than experience, with what's described as "light" interaction, but being able to move around and change your perspective really makes you immersed in a way that's cool to experience. Check it out for yourself!
Rappers Saving Dogs in VR is Your Tummy Rub For The Day
"You can say what you like about VR's mainstream appeal if it's in a rail shooter or futuristic sport. But strap on the goggles with just a hint you might fall, and then it gets real AF. The best part of this video, by YouTube's 88Rising, is how even a video game dog in jeopardy overcomes the natural fear of heights. Even though it's a joke, even though they're all in a green room, even though there's no danger of falling, these guys are mission-focused."
Instead of a Save the Cat moment, why not have a save the puppy from falling off this tiny ledge? I used to pretend my cat was stuck on the roof and go "rescue" her so that I would have an excuse to climb on the roof, which was forbidden not because it was too dangerous, but because I might 'damage the roof tiles'.

Lady Gaga Teases Anime Cyborg at Her Las Vegas Show

"Lady Gaga has been teasing a new animated character on social media as part of her Las Vegas residency show. It looks to be a cyborg with long blue hair and the ability to fly through space, a character that Gaga was also dressed as on Friday. In a short, mysterious clip posted to YouTube and Instagram, the character looks around at a shining star before making contact with it and absorbing its powers."
Only time will tell if the animted characted will actually make an appearance at a live show, or if it's being used as a teaser for a costume Gaga will don herself.